Series of Anxiety Cards inspired by actual cards made by my dad, carried daily in my pocket for the entirety of third grade (age 9). Many years in the making and perhaps my most intimate project to date.


2020 / 21 / 22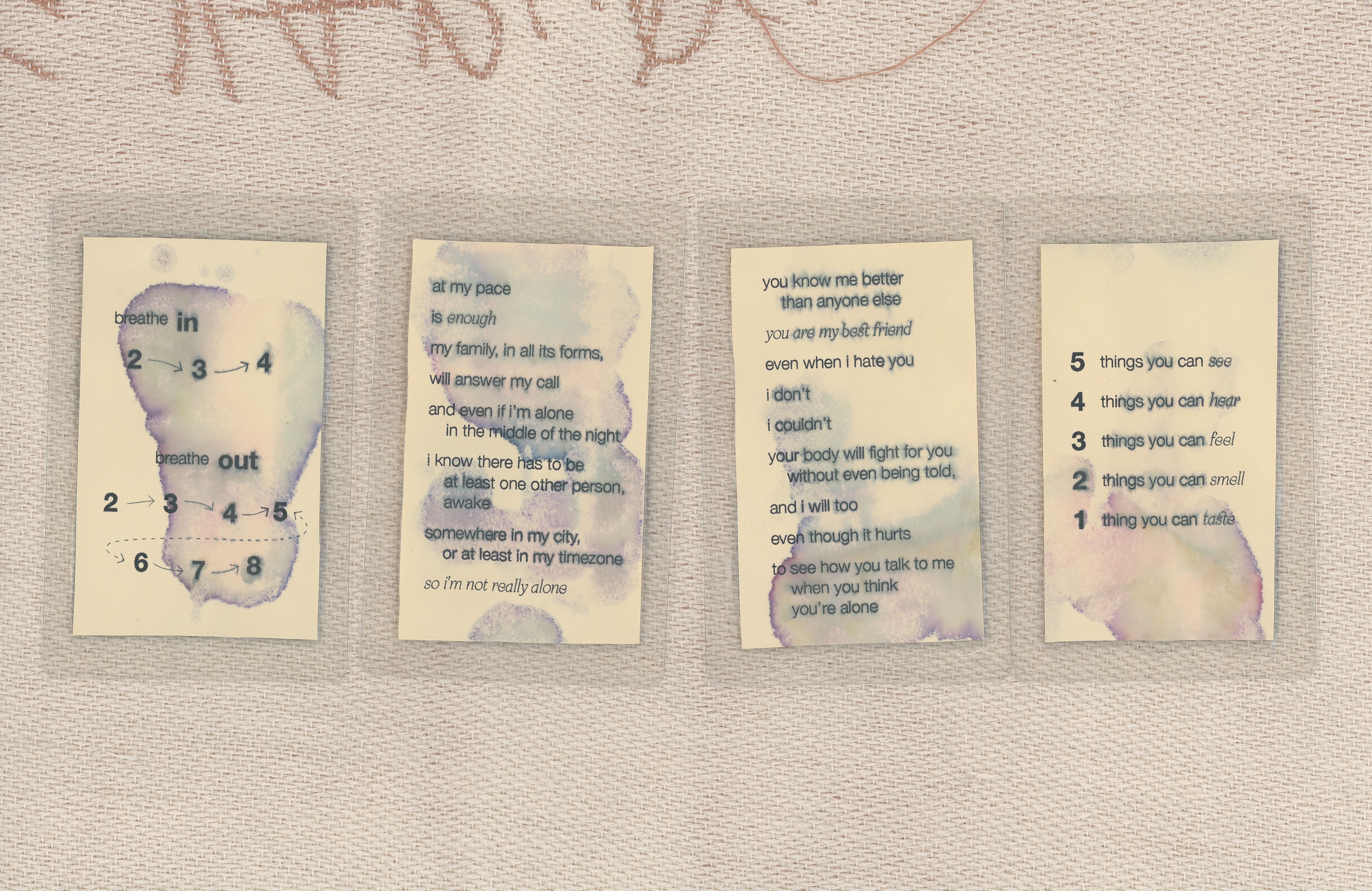 As a nine-year-old, I experienced my first panic attack. That event brought to light a debilitating social anxiety. Day-to-day life was difficult, especially once I started trying to go to school again.

To help me re-enter school, my dad made a set of five cards on Microsoft Publisher for me. On one side of the card is an image of something I loved or that made me feel safe (family photos, my cat, a glowing sunset). The other side had phrases that read like poetry, gently reminding me to be patient, breathe, calm my heart. He laminated them at Kinko's. I carried them in my pocket every day for years.

Anxiety cards
, 2022, Bleeding inket and plastic on paper, 3.25x2in.
These cards are one of my most cherished posessions. Over the years, they went through the laundry, or got crumpled at the bottom of my backpack, and the result is a beautiful, inky, almost watercolor series of imagery that I've held close in the darkest of times.

These cards did so much for me, and I keep them safe for fear of losing them. I would be devastated. Throughout my adult life, I've made many updated versions of them, with new language and imagery to meet me where I am. This is the most recent variation, which also feels the most true in spirit.
The technique I developed to replicate the original cards' bleeding ink allows for a visual language reminiscent of bruising. The typefaces are a personal favorite combination. The words and phrases are ones I often repeat to myself in times of deep anxiety today. The imagery on the reverse are photos taken within the last year that hold important meaning close to my heart. These new cards are also laminated in keeping with the originals.
Original cards made for me by my dad, c. 2004.
In total, there are nine cards in the 2022 deck. Maybe one day I'll reveal them all. For now, some are not documented here, as they are just for me.