Katie Williams
is a designer, artist, and cat mom living in Chicago. She is currently earning her
MFA in Visual Communication Design
at the School of the Art Institute of Chicago. This is her web portfolio.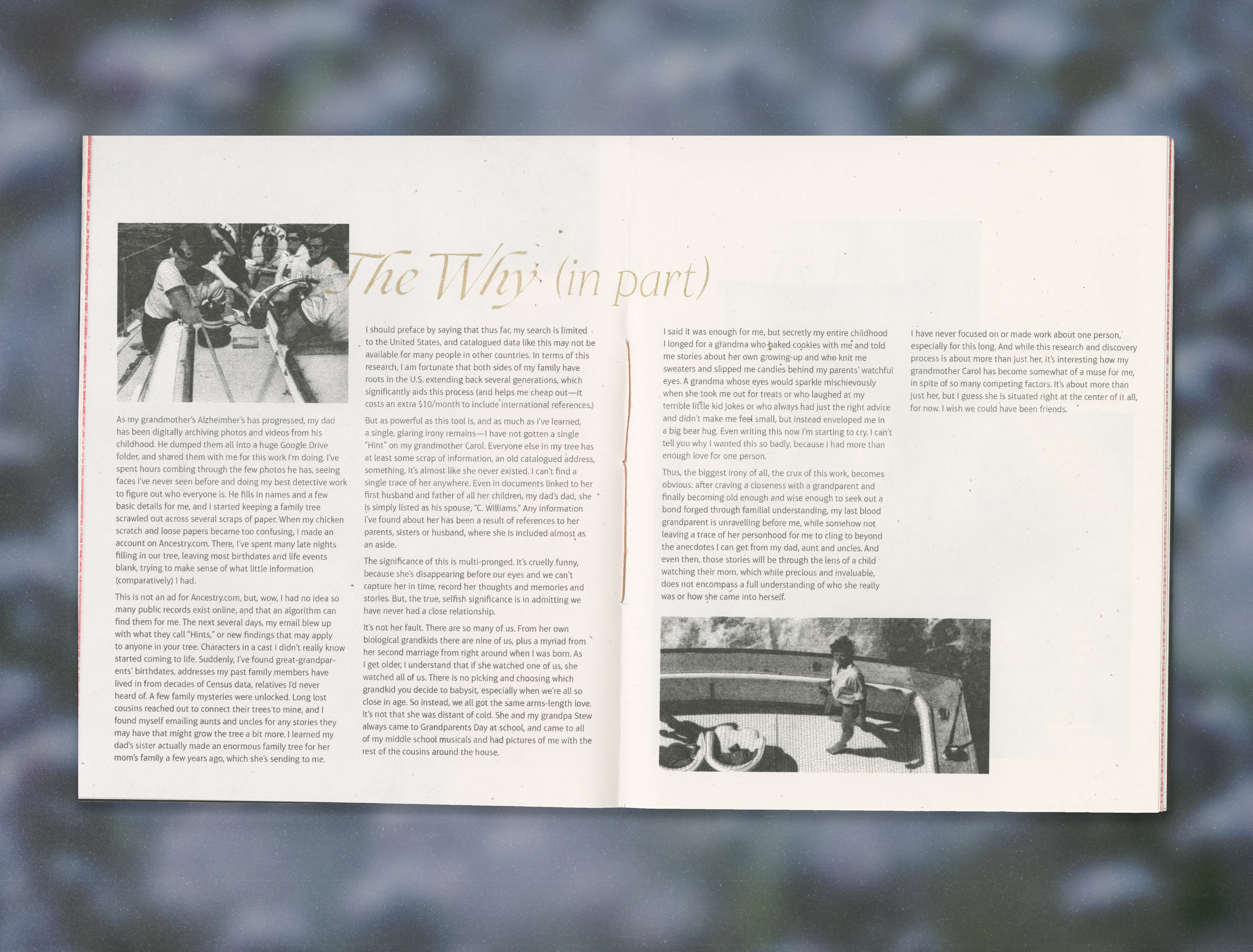 The second book in a series created to accompany my graduate thesis work. This body of work asks: what does it mean to know another? as I attempt to finally get to know and form a relationship with my grandmother as her Alzheimer's progresses. Simultaneously, I assume the roles of historian and anthropologist as I document our family's (never before recorded) history. I confront the disease's genetic power in our family tree and the high probability of its dormant presence in my father and in myself. Through collecting public records, saved correspondence, personal photographs, and oral history, I create the first archive for our family. These items direct the composition and form of my resulting body of work.

In tandem with my robust research and making process (which includes a newly expanded weaving practice), I turned to writing as another form of digesting and making sense of the data. This collection of essays reflect on my budding relationship with my grandmother, discoveries made while researching our family tree, and the role weaving plays in this project. Essay titles chronologically form a subtitle for the book: Interestingly, The Why (in part) Is Woven Within Me.

Forget Me Not, 2021, Synthetic fiber, Risograph and offset printed on speckletone paper, 8x10in. Riso colors used: Bright Red, Federal Blue, Flat Gold, Yellow, Fluorescent Pink, Black.
Hyde Park Art Center Redesign
2020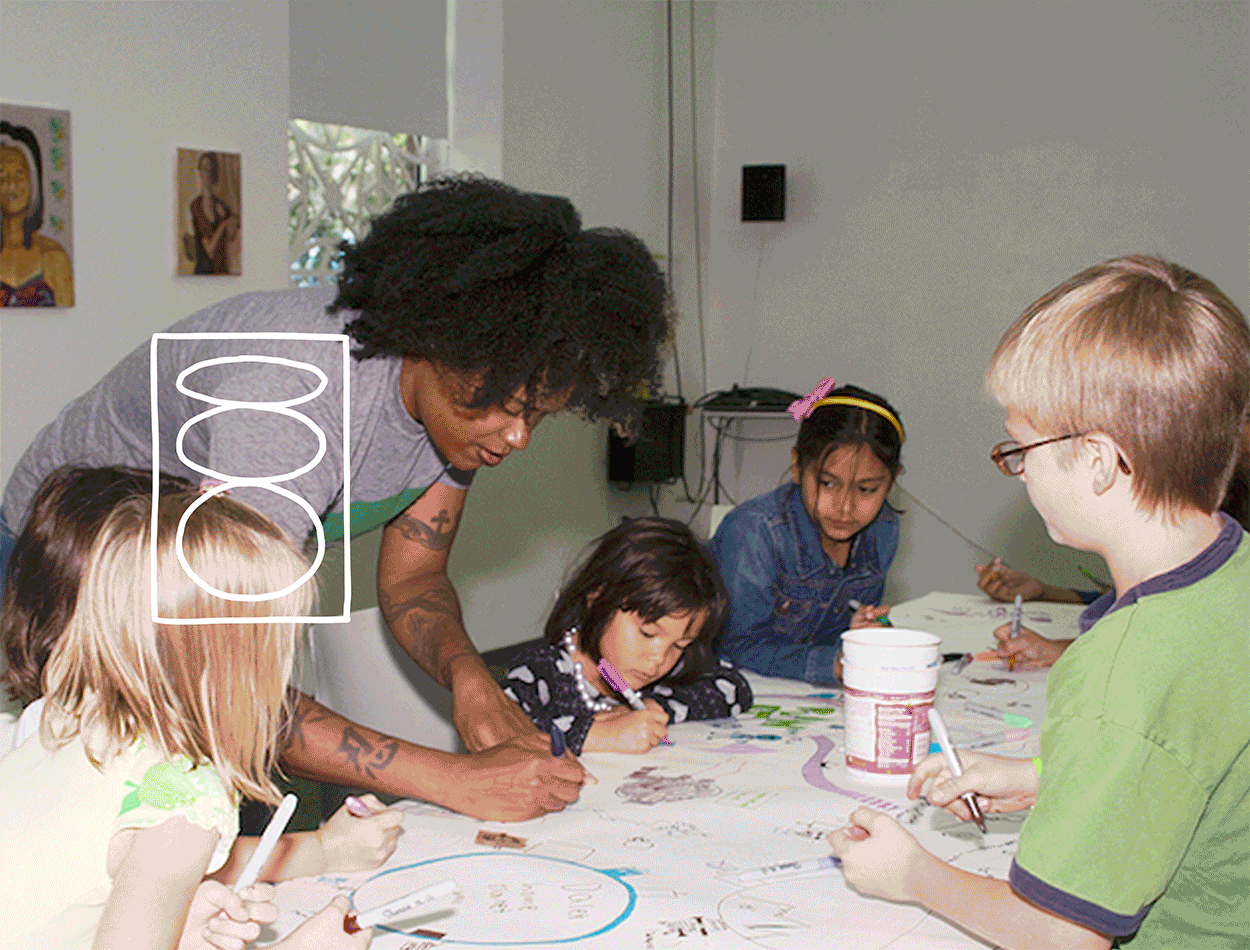 Hyde Park Art Center is an arts education and exhibition space in Chicago's Hyde Park neighborhood. With its rich history, HPAC has been a pillar in the Hyde Park neighborhood and in the Chicago art world as a whole.
The new concept is a visualization of the four pillars of the art center's mission: education, exhibitions, residencies and community. With the four illustrative shapes, this logomark can be composed in a horizontal or quadrant-style lockup. Depending on context, it can be presented in the standard identity colors (as either solid shapes or outlines), black, white or with photographs or textures. The mark can also be broken up and each shape can be used in isolation, often to designate an employee's role on a business card. It is recognizable enough to be used as standalone graphics, but is presented in full with the logotype set in
.
Full brand guidelines book, complete with contextual research and concept sketches, available upon request.
All background images sourced from
Hyde Park Art Center
. View website for all artist information for works included in any imagery.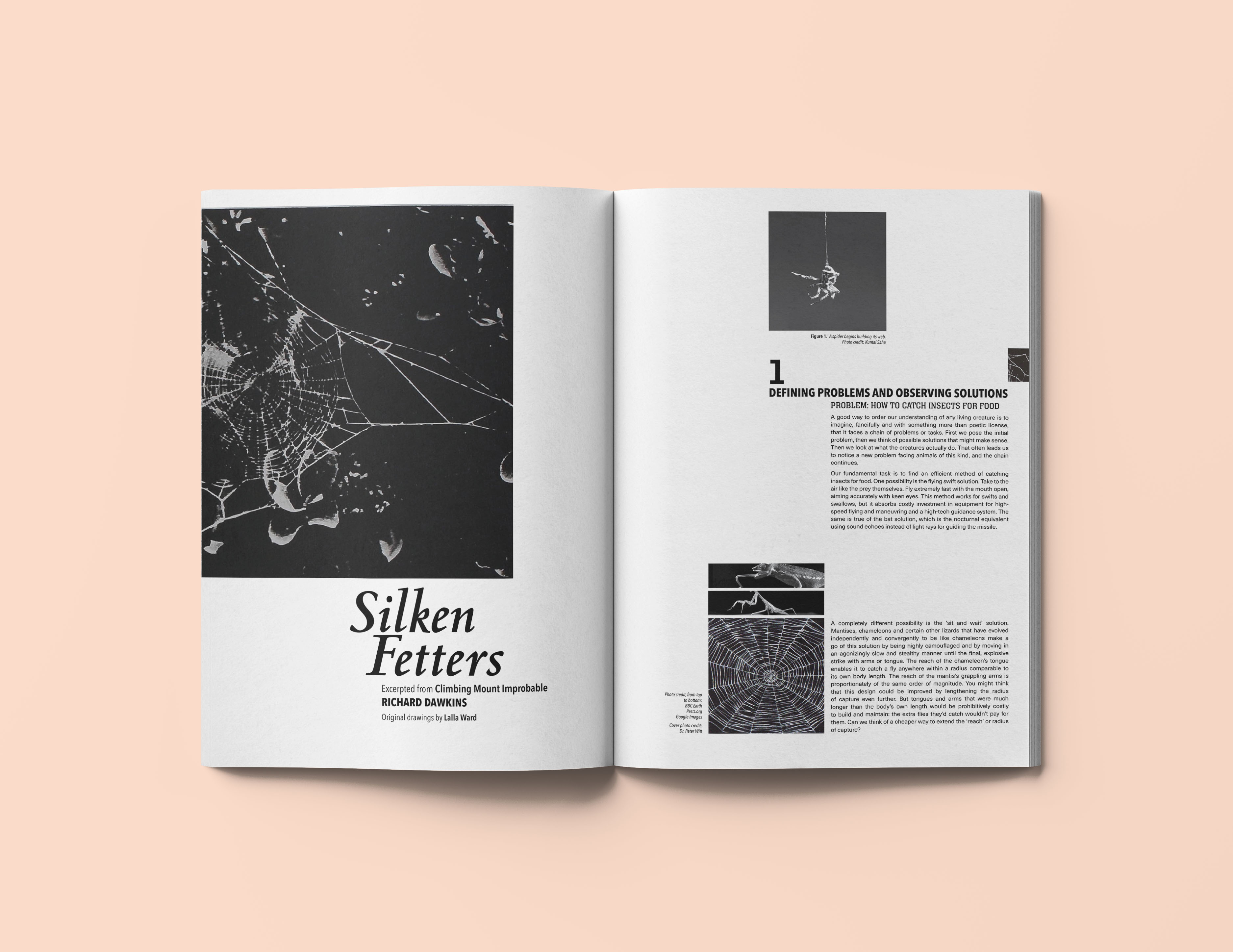 Silken Fetters is an editorial spread created first with the cut-and-paste method, then measured digitally and composed using a 6-column grid structure. The goal was to create a dynamic reading experience that heightened an otherwise dry text. About half of the images were provided, and the other half were sourced from scientific entymologist journals and other periodicals.

During the initial process phase, I created about 5 full paste-up versions, each 28 pages in length. Once working digitally, I was able to condense the information into a 26-page spread.

While the content is methodical and heavily factual, the author pays special attention to the delicacy and grace of the spider. It was important, therefore, to introduce a sophistication and ephemeral intimacy into the layout.

Full spread available to view upon request.
Series of Anxiety Cards inspired by actual cards I carried in my school uniform pocket, made by my dad, to reference throughout the day. Partly chaotic, partly illustrative of the turbulent emotions, fully cognizant of how to feel better.

Meant to be carried, these cards are sized at 3x3" and can be on thick cardstock or laminated, like mine were as a kid. Each is designed for specific scenarios related to my personal experiences.